Perth's Industry Leading Surface Cleaning & Sealing Specialists
Sealing your outdoor surfaces keeps them cleaner for longer and can increase the longevity of the finish. Sealants prevent dirt from binding to your pavement and stop stains from penetrating deep into the material. We provide a full range of sealing solutions for any residential, commercial, or industrial surface.
It's crucial that the surface is correctly prepared before a sealant is applied. We use a combination of high-pressure cleaning, heat, and cleaning products to ensure that the sealant can bond to the surface. Poorly prepared surfaces can result in de-lamination of the coating. This is why we recommend having a professional high-pressure clean and seal your outdoor surfaces.
We can provide advice on the best protective coating for your surface depending on the material and foot traffic. Don't make the expensive mistake of trying it yourself, contact your local professionals at The Pressure Cleaning Guys to help!
Why Choose The Pressure Cleaning Guys?
Sealants and protective coatings are worth the investment to maximise the value of your home or business. We professionally seal your surfaces so you can avoid spending time and money to replace or repair worn-down surfaces. We guarantee that our selection of sealants and precise application will help protect your surfaces for longer without breaking the bank.
Highly Skilled & Experienced Professionals
Fully Insured with Public Liability, Motor/Vehicle Damage & Worker's Compensation.
We Can Do Any Residential, Commercial & Industrial Property
Same Day Clean & Seal
Superior Application with Guaranteed Results
Tailored Sealant Solution to Suit Your Surface
Wide range of sealants from solvent-based, water-based, non-slip coatings, anti-graffiti, petrol-resistant coatings, and more!
We can Seal Any Surface
Get in Touch for a Free Quote!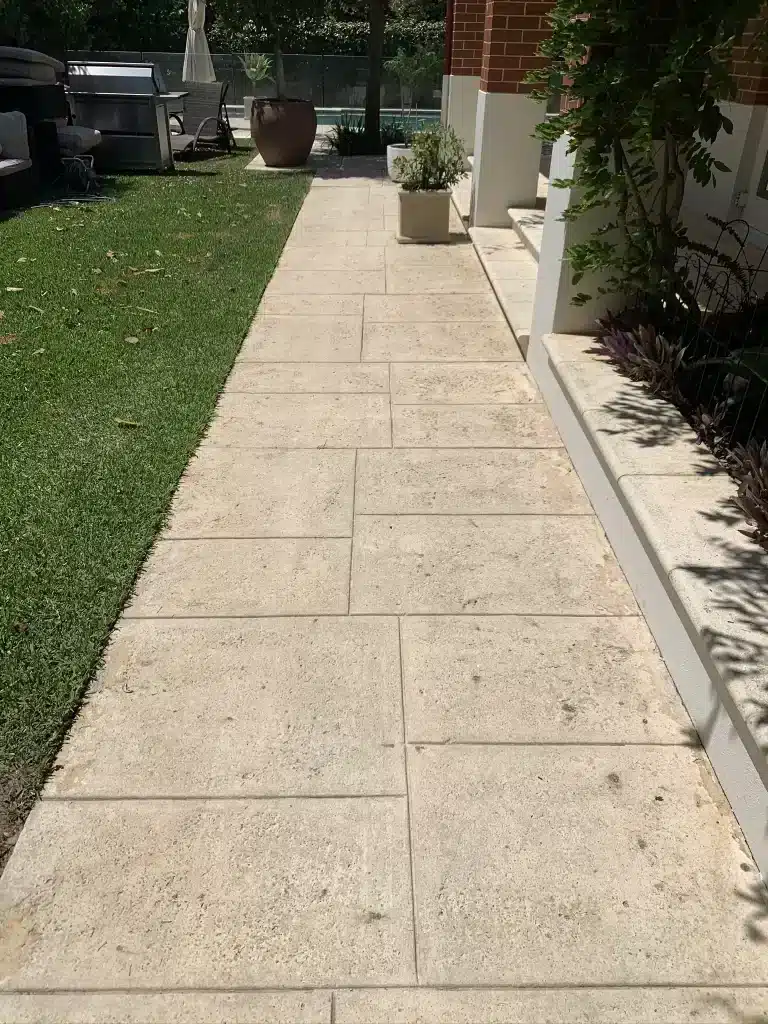 We are Perth's Highest Rated Pressure Cleaning & Sealing Team
We always strive to deliver the best results with every job we take on, no matter how big or small. Here are some amazing reviews left by our very satisfied clients!
Excellent and prompt communication, professional service and very happy with the outcome! Would recommend. Thanks Jaxon and Fred!.
Recently had my backyard and driveway done by Jaxon and his team. Really makes the house look brand new again, i cant believe how great the job came up. I 100% recommend using these guys!
Quick to respond to enquiry for a quote. Price was reasonable and job booked in. Arrived as expected and worked effectively. Very happy with thoroughness of job and willingness to go the extra step where needed
The guys were great, worked hard all day and my house looks like it's just been built. Amazing the difference it makes getting the moss off the tiles and all the paving cleaned up. Super happy
Our Sealing Services
As Perth can have quite weather conditions during Winter or Summer, over time surfaces can begin to crack and wear down. Below are just some of the many surfaces we can seal for your home or business!
Our team also specialises in High Pressure Cleaning!
Got some tough stains, scuffs, dirt, or oil on your surface that needs to be removed?
The Pressure Cleaning Guys are your local professionals to help clean your surface and get it looking as good as the day you got it. We have a wealth of industry experience in high-pressure cleaning to get the job done in a timely and effective way. Learn more about our high-pressure cleaning service or get in touch with us today!
08 6280 2347